Earn Commission by
Sharing What You Love
Become a Blushboss Affiliate and get paid every time someone places an order on Blushboss through your link!
As a Blushboss Affiliate, you will be given a referral link that tracks visitors that visit our site through your link. Every time a sale is made from your link, you get paid a 5% commission from that order.
Becoming a Blushboss Affiliate means you get to earn commission whilst sharing what you love to family, friends and anyone whom you think might enjoy Blushboss. You don't need to be an influencer or own a website to be an Affiliate. All you have to do is share your URL link with people whom you think might enjoy Blushboss, or paste our banners on your blog.
Every sale that is brought from your link will earn you a 5% commission that will be paid to your PayPal account or bank account within 5 working days, no matter where you are in the world.
Getting Started
Signing up as a Blushboss Affiliate is easy and shouldn't take more than 5 minutes. To sign up, visit https://blushboss.refersion.com/ and fill in the necessary details.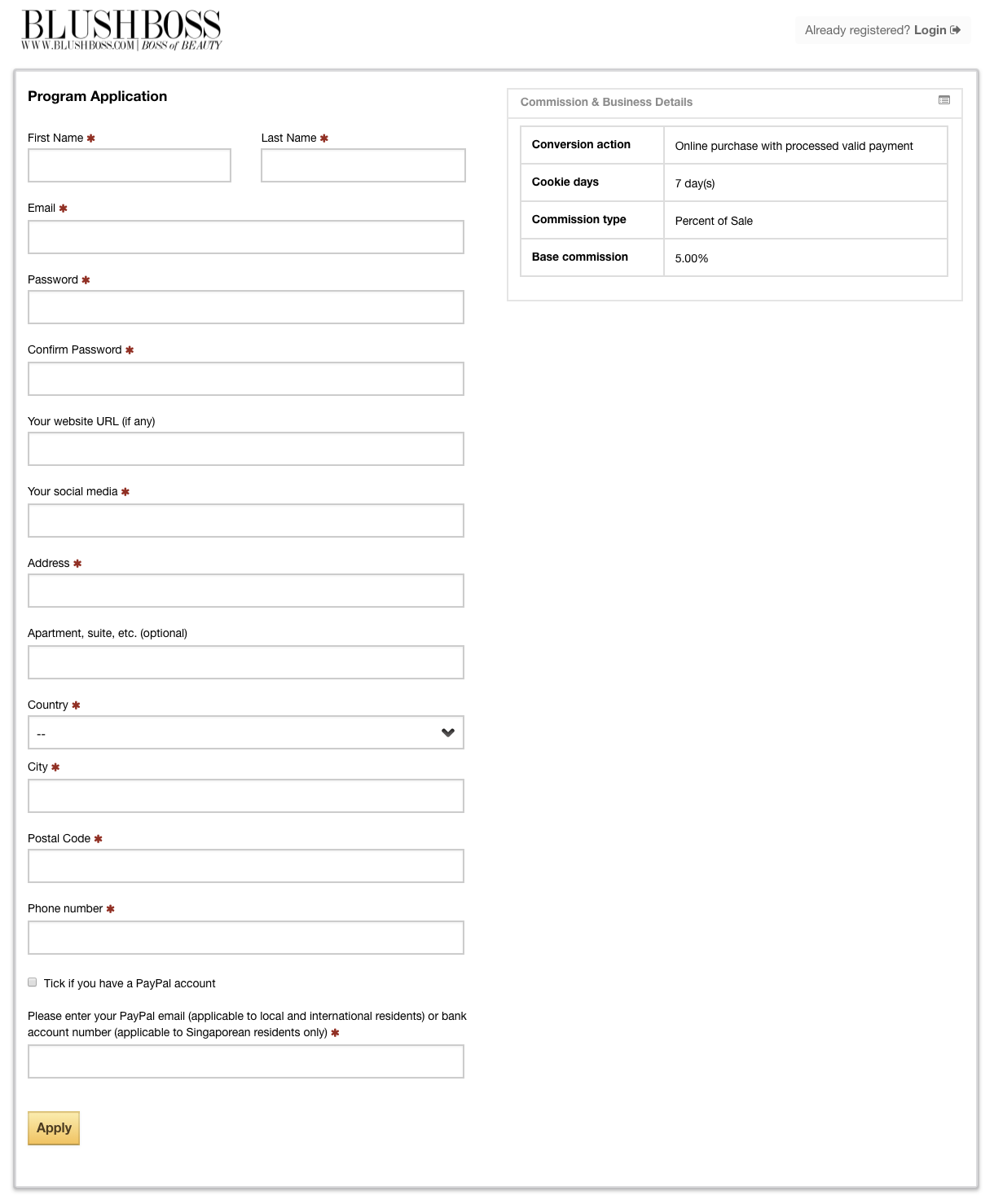 You will be asked to fill in your basic information and your bank details for your preferred mode of receiving payment. If you're a Singaporean, PR or if have a local bank account, you may choose to get paid via bank transfer. If you do not have a local bank account and are an international resident, your commission will be paid to you via PayPal.
If you do not have a PayPal account, click here to sign up for one, creating one is quick and easy. PayPal allows you to receive payments. Each time a visitor clicks on your banner or link and makes a purchase, you'll be notified via email and payment will be sent to your PayPal or bank account within 5 working days.
Once you have signed up, you can log in to your affiliate account--this is where you can see all the orders from your link and track your commission
You'll receive a URL link that you can share with everyone--your link tracks visitors who places an order within 7 days of clicking on your link
If you have a blog, you can insert our banners on your site--these banners track your referrals the same way the URL link does
As a Blushboss Affiliate, you can access your account any time to see all any orders referred by you, commission details and payment status.
*By signing up as a Blushboss Affiliate, you agree to our Terms and Conditions. Commission is based-off the total order amount after discount (if any) and excluding shipping costs. Blushboss reserves the right to to cancel an Affiliate's account or reject a transaction at any time without notice.